Drapery Cleaning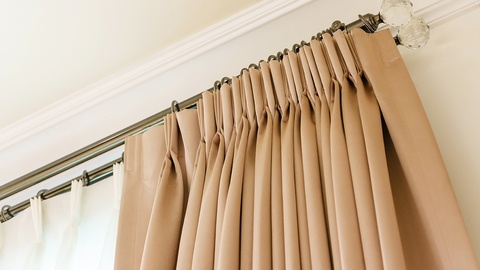 Gator Clean can make cleaning your drapery on any window a breeze.
Reasons to clean your drapes:
Drapes and curtains are the one household item that often goes ignored when it comes to cleaning. Well, you may try to clean the drapes, but it is harder than it looks. You can dust and vacuum for hours and still have curtains that are saturated in dust and dander. They are too heavy to take down and sometimes very hard to move. Because of their weight and size, drapes cannot fit into a standard washing machine. Trying to drag them to a dry cleaner is another bad idea because they are so heavy and hard to move. That's why the best thing to do is call Gator Clean to clean your drapes professionally.
There are many benefits to cleaning drapes:
Removes dust and allergens buried in deep within the fabric
Saves you money by extending the life of your drapes!
Your drapes will look brand new again!
Removes pet hair and pet dander from the fabric and folds.
Cleans and removes cooking oils and smells.
Utilizing a professional drapery cleaning service will make sure that your drapes will not fade, shrink, and the seams and thread will not come unraveled. Any time you move into a new place, it is recommended that existing drapes and window treatments are professionally cleaned. The folds could be hiding dirt, dust, dander, and all the smells from the previous tenants!
What is involved with professional drapery cleaning?
You don't need to worry about anything! Gator Clean will do it all. You don't need to take them down or put them back up. They will not be damaged from excessive handling, and the original shape and style will stay the same. We are sure to clean the top treatments that collect dust and sometimes get overlooked when treatments are taken down and cleaned off-site. We pay special attention to box valances, jabot, swags, and various window treatments as well.
We clean drapes for homes, businesses, and churches. Contact Gator Clean for a free quote.