Upholstery Cleaning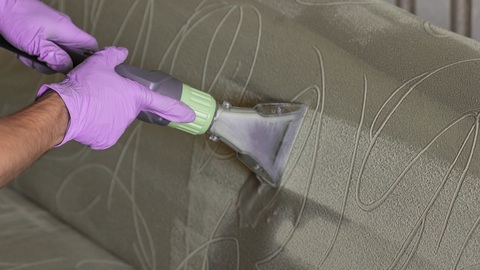 Gator Clean can assist you with professional upholstery cleaning services. Upholstery gives your home a whole different look, but when it starts to get dirty, it won't look so beautiful anymore.
Now and again, you probably notice a spot on your upholstery and tackle it using household upholstery cleaner, right? It's quick, it's easy, and most of the time, it's pretty useful to cover up unsightly stains on your furniture.
But what happens when you can't remove a stain with your usually reliable upholstery cleaner? It may be time to invest in a bit more than a cloth and spray bottle. Furthermore, if you can't see any visible stains, does that mean your upholstery is clean? Not necessarily. Even when stains are not visible, upholstery carries bacteria that, if not removed, can potentially affect your health. This bacteria can cause sickness; so the sooner you invest in upholstery cleaning, the better off you will be.
Upholstery Cleaning is also proven to improve the air quality in your home. Mold, dust, mildew, and other allergens can live in your upholstery, going unnoticed to the human eye. Regular, professional furniture cleaning can prevent unnecessary pollutants from spreading through the air and into your body.
Gator Clean uses a 3 step deep steam cleaning process to clean your upholstery and restore it's beauty again.
First, we apply a specially formulated powerful pre-conditioner to loosen dirt, spots, body oils, dust mites, pet dander, or pet stains.
After applying the pre-conditioner, we use a special brush to agitate the pre-conditioner on the fabric to remove as much dirt as possible and to treat any stain or spot.
The final step is steam cleaning of your upholstery with a PH-balanced fiber rinse. This step will remove all dirt and cleaning solution from your upholstery, leaving it cleaner and residue-free.
Call Gator Clean today at (352) 508-4556 or fill out our handy Free Quote Request Form for an estimate on Upholstery Cleaning!