Pet Urine Stain & Odor Removal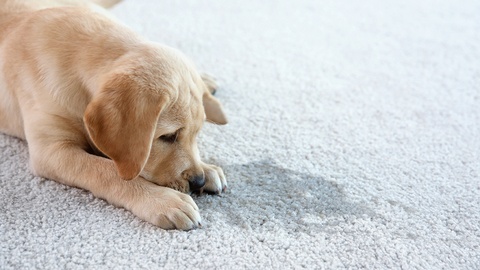 Pets bring us endless happiness and loyal companionship. They are there to see us off on our works days and the very first to welcome us home after a hard day. As much as we love our pets, the one thing we don't love is the messes they may leave along with the pungent smell of urine or pet dander that comes along with it. Some pets are good about not having accidents in the house, but not all animal bladders are alike. If you do have a pet who has had a little too many accidents that leave long-lasting urine odor Gator Clean is here to help!
When it comes to carpet and even hardwood floors, urine is especially difficult to remove altogether. As with any liquid gravity pulls it down as far as it will go which is deep into the carpet or worse, the padding or subfloor. Even if you remove the stain from the surface, old decaying urine filled with bacteria still lurks beneath. This could be a recipe for a smelly house down the road because, after spot cleaning the stain, the strong urine smell remains.
The reason the average homeowner has a hard time getting the urine smell out of their carpets is that urine doesn't stay wet for long. After soaking in, it quickly dries as an oily, wax-like substance that becomes almost impossible to get out. Fortunately for you, Gator Clean are experienced experts at removing stains and odors all while completely sanitizing the floor to the deepest layers.
We have time tested methods of seeking out and removing stains and odors on every inch of the carpet. After we locate the source, we turn the urine back into a liquid using superheated water and a safe all-natural mixture of detergents, oxygen, and enzymes. This process helps break up the urine allowing us to completely remove any trace of it from the carpet, padding, and subfloor. After deep cleaning the floor, we deodorize the carpet and the air in the room, eliminating the slightest hint that there was ever a smell in the first place.
Sometimes the case is more severe, which calls for a different technique, and some padding or subfloor may need replacing. This is much more efficient and cost-effective than replacing the entire carpet and padding. Gator Clean can help with this process too.
If pet odor has become a problem in your home call Gator Clean and enjoy clean and fresh carpet again!
Call Gator Clean today at (352) 508-4556 or fill out our handy Free Quote Request Form for an estimate on Pet Urine Stain & Odor Removal!